---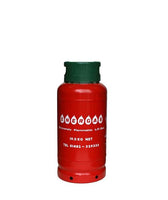 19Kg Propane Gas Bottle 
 19Kg Propane cylinders are a commodity product meaning that the function and connections are exactly the same no matter the brand of product you purchase. 
We also have a sliding scale on pricing so the more you order the cheaper they are!
Standard delivery lead time is with in 2 working days of order placement at this time.
CURRENTLY THE CHRISTMAS LEAD TIME IS WITH IN 4 WORKING DAYS OF ORDER PLACEMENT
***FOR THE REMAINDER OF DECEMBER WE WILL NOT BE TAKING ON ANY NEW CUSTOMERS SO THAT WE CAN MANAGE OUR EXISTING CUSTOMER REQUIREMENTS OVER THE CHRISTMAS PERIOD ***
We can now take on NEW Customers
For the past few years we have been unable to take on any new customers due to a limitation on the supply of new cylinders. We have now been informed that we are free to take on new customers but that there will be a one off NEW ISSUE charge per cylinder of £25.00 if you do not have the correct size of ENERGAS empty to exchange.
Used for domestic heating, outside catering, static caravans and Agricultural use.
Diameter: 315mm (average)
Recommended Offtake: 63,000BTU/hr